I began blogging in 2009 according to my records. I recently made my 365th post as well... that means i have posted about every third day for more than 3 years. When i saw this image: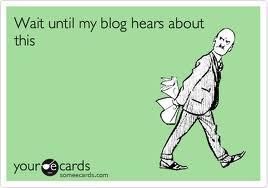 i knew it was for me. lol
Most all of my gardening activities and some of my household shenanigans are done with a thought of this blog. Sometimes i discount the idea as too boring, other times i don't care if it is and i still share it. My long-winded ramblings and repetitive thoughts may be boring to some, but i keep recording thoughts because at the very least, i find them useful to look back upon. If anyone else finds the entries useful, or helpful i am happy, if not its ok. I don't expect anyone to be hanging on to my every word. Tee hee.
I just simply find it fun to blog. I adore reading the blogs i follow and though i don't always comment, i read every update as soon as i can. Blogging has been one of the most enjoyable hobbies i have picked up in a long time.
I appreciate all my followers and especially love the comments, i always try to reply. I don't like the Capcha thing to avoid spammers, so i don't make repliers have to deal with it. I weed out the spam myself...and whooo- do i get a lot of it. My "Carrot and Parsnip Seed Tape" entry seems to be the most popular to spammers for some reason. Some bot always tries to get through, i have no idea why.
Well, thats all i just wanted to say how much fun i have blogging and thank you to all who follow my ramblings. Your comments encourage me and i'm glad i'm not alone out here in cyberspace talking to thin air. lol