It will be about another 2 weeks before i should start anything so one of my last prep projects was to get my seed shelves together. Hubby took me out to Home Depot and bought me two more shoplights and enough bulbs to load them up. I also got a surge protector so i could plug all the lights into the power strip and then into my light timer. We went to Paris Farmer's Union and got more soil. Then we went to Marden's and he found me a nice wireless weather station to replace the old one that quit working after just about a year. We only paid $19.99 for it and its a $99 regular price. It is giving us some trouble in setting it up, but hubby will figure it out i'm sure.
At all of those places, i managed to leave the seed packets alone. I glanced at a few, but i did not touch. Hubby even noticed that i behaved so well. ;o)
Anyway, this is what my revamped light setup looks like: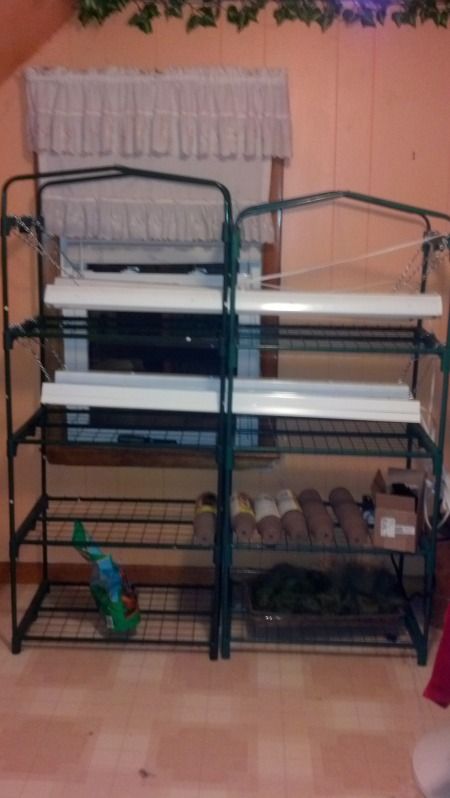 I'm not sure how well the light chains will work, where the shelves are wider than the lights the higher the chains are pulled, the more the two greenhouses are pinched together. My other light setup was not as wide so the chains hung straight down, but i could only fit 2 flats per level. If this setup works i'll be able to have 4 flats per level. I also have an oscillating fan to use to make sure the seedlings make strong stems.
Two more weeks of waiting!