I just haven't had the time, i guess. Not so much busy, but i need time to gather my thoughts before i can write things down. I'm still not quite gathered, but i have taken a number of photos and have uploaded them to Photobucket so i can post them here. They uploaded a bit randomly, so i'll sort through them and just describe as i go.
First up is one of three galls i found on my Stanley prune plum.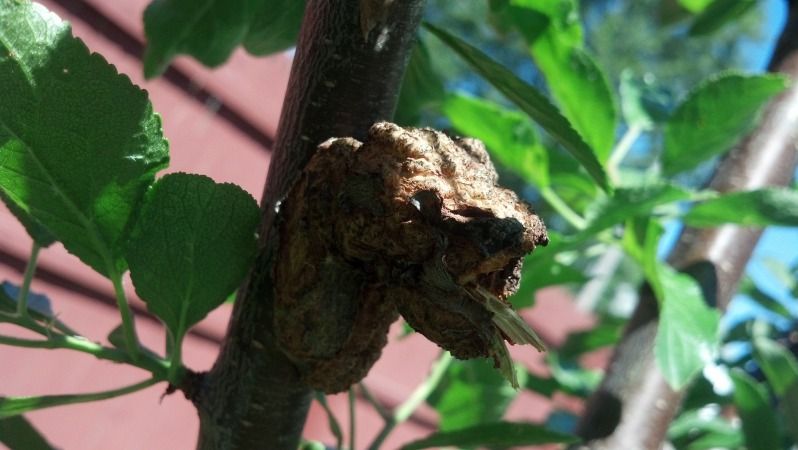 Here is a second one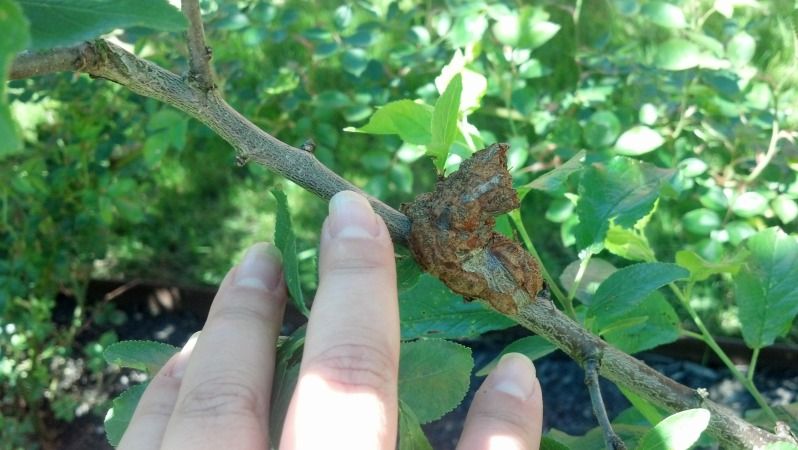 the third was up too high to take a photo.
I went to Stark Brothers' facebook page and asked them for advice. I don't know if these are fungal, bacterial or insect galls and i don't know what to do about them. I have not gotten a reply yet, a 48 hour wait is not unusual.
On the upside though, it looks like i might get some fruit this year if all goes well: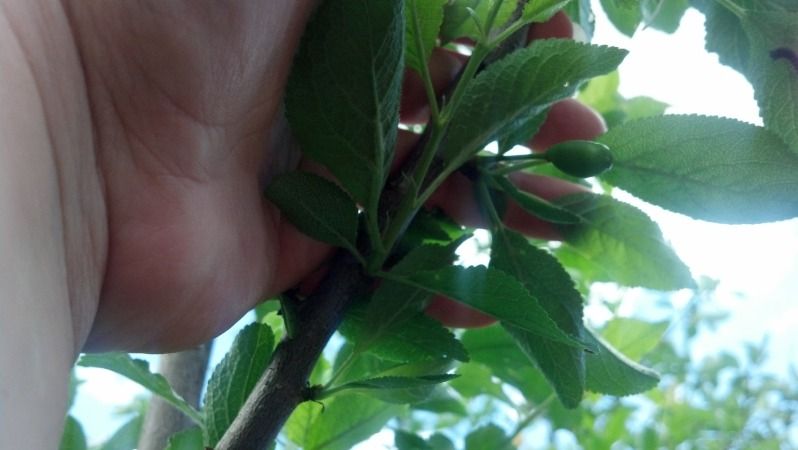 The Autumn Olive bloomed profusely this year, a nice sweet scent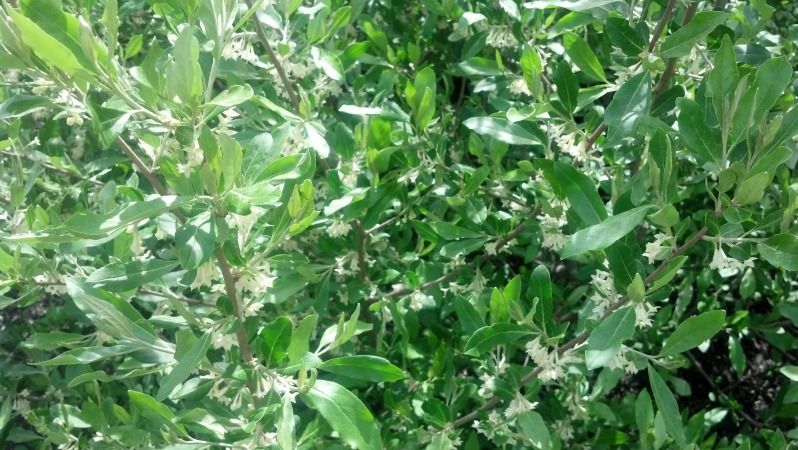 The lilacs bloomed nicely too... they have gone by now.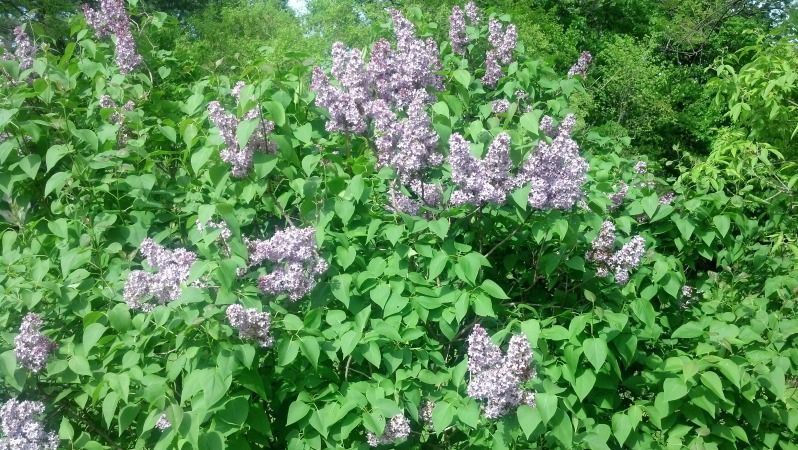 The Sparkle strawberries are blooming too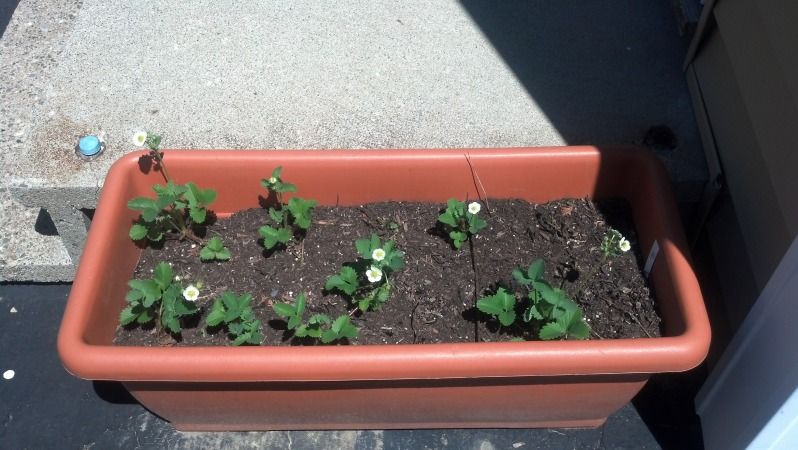 I got the black plastic down and the tomatoes, squash, melons, eggplant, peppers, basil, shiso, tea hibiscus, cukes and broccoli planted last Tuesday.
I wasn't planning on putting the broccoli on plastic, it might button or bolt, but we'll see. Everything but the melons seem to be doing fine. It took about 5 days before the striped cucumber beetles found my plants, but when they did, they went right after the melons. I used sevin dust which is the only thing that i have found that works on them.
The uncovered second row has Provider bush beans in it, they just started coming up about Monday. I had planted them last Wednesday i think. I planted them just before 2 days of rain so i didn't have to water or anything.
Golden Butter wax and Royal Burgundy bush beans will be going in later today or early tomorrow depending on when more rain is expected. I also have about 25 seeds of Tender Green bush beans my dad had left over from his small planting at their house.
I still have not planted any daikon radish or beets, or the ornamental sunflowers. I need to get the sunflowers in soon, but i'm going to look around and see if the beets and daikon radish may be better as a fall crop at this point.
I don't think any of those Adirondack potatoes are coming up. They were planted 3 weeks ago this Monday and i don't see one sprout. This is a real bummer. I think the combination of the seed potato pieces being so rotted and then the row they were planted in appears to be a favorite of the feral cats... the whole row is torn up from their digging and rolling, the 'taters never had a chance. I'll try again next year and buy twice as much seed. If they rot again, i will give up.
As far as the plastic on the rows goes... i have had some trouble with the plastic staying down in the wind. I used ground staples, but the garden soil is so soft they can only hold so well. I'm also using bricks. The ends are the hardest to keep down, they have blown off a few times and i have had to re-set it. This has damaged some leaves on a couple sweet pepper plants, but not much else.
Looks like another good year for grapes: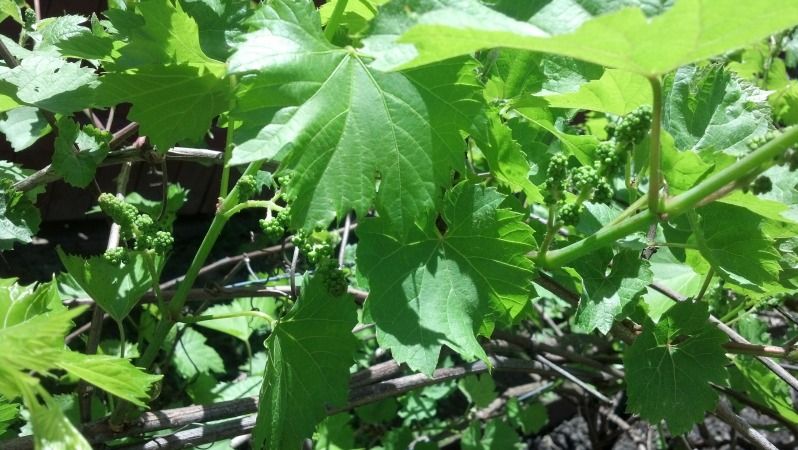 Blueberries look good too: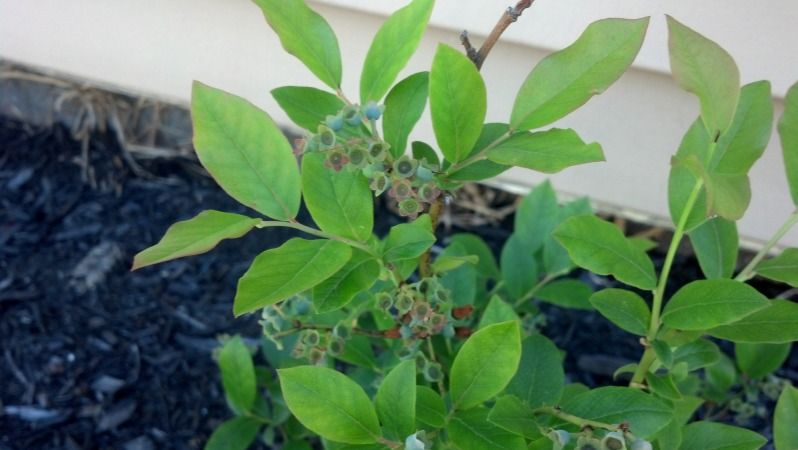 Two of them are doing great, the other two that took it rough over the winter are recovering. One has a small cluster, but the other has none.
I think that is all for now.