I pecked away at this post for a couple of days, i think i'll be able to submit it tonight :)
Thursday, April 1-ish...
I've been trying to get the chance to post for days and days. Just been busy with work and i have been having trouble with technology, remembering passwords acclimating to my new phone, loss of data from my old phone.... i lost a boatload of photos due to a messed up SD card. It was bad enough that it corrupted new photos. So i had nothing to 'show' on the blog other than texts. My new phone is the same make and model as my old one but i had everything set up the way i wanted it so i did not have to mess with anything but figuring out how to put all my things back the way i had them is time consuming.
The Blogger app is also giving me trouble, or my phone is... i really can't tell where the problem is coming from. My Blogger account is associated with a Yahoo account, my phone itself has a Gmail account. I downloaded the Blogger app and have my Yahoo account as default on the phone, but it does not list the Yahoo one as optional to sign in to Blogger. Signing in with the Gmail account shows "no blogs associated with this account"...duh. I have deleted and reloaded/re entered both Blogger app and email account multiple times in different orders but its just not coming through.
Anyway, i have been working on the garden. I am very late on getting some seeds started. I managed to plant all peppers, tomatoes, okra and some marigolds weeks ago. Things like squash and cukes should be started later but i'm running more late than i should. Its not
too
late but it is not optimal. Maybe i'll get this done tonight...?
One thing i did get done, after having every intention of doing it for a couple of years was to make nameplates for my grapes. They are outgrowing their nursery tags and though i have pictures of them and have them named in their positions, i'd prefer to have them labeled nicely.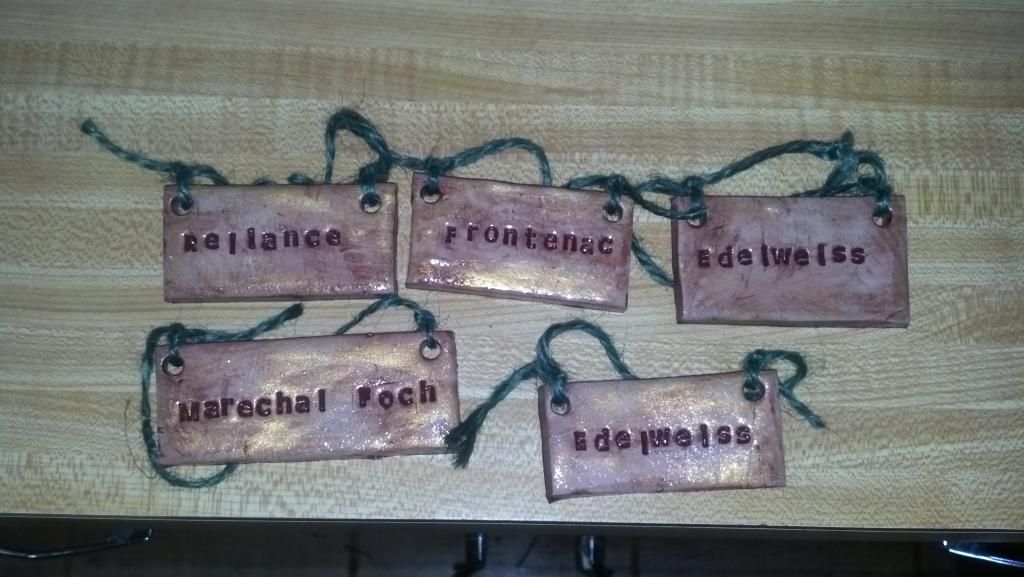 Not the best photo, i didn't fiddle with the camera settings any. They are darker than this and they kind of look like thick leather with some gold burnishing. I wanted them to have a sightly haphazard typeset, one of the Edelweiss is a bit too off kilter but i don't mind too much. They were fun to make. I used some white Sculpey polymer clay that i have had forever. Staples had it on clearance about 12 years ago, 1.5 # boxes for around $3.00 each, i think i bought 4 boxes. I put it away and never got around to using it. I found it again a couple of years ago and it was starting to get dry and crumbly but i didn't want to throw it away. I did some research online about softening it again and found out that canola oil can be kneaded into it a little at a time. It worked like a charm! They were very fun to make. Now i just need to think of something to do with the last 6 or so pounds.
We are getting some nice rain today... its been rather cool this spring. All the snow was pretty much gone by Easter and it looked like things would warm up quickly but it hasn't. The maple trees are getting close to full bloom, everything else is just barely budding. One of the Carmine Jewel cherry trees had a main branch growing very low on its little trunk, so i clipped it and am trying to root it in clear polymer florist's water beads.
Last week i did a ton of pruning. The grapes were going bonkers so i cut them down to their main stock to refresh them. I also discovered that those metal T-posts i used to fence them up come in 8' size. I wanted to get them locally at Aubuchons or Paris Farmer's union but they only sell them in packs of 5/ I only needed 6, not 10. Home Depot sells them singly and for almost $3 less per post than the two local places and free shipping. So i ordered my six and saved enough to get the black plastic sheeting. My order should arrive as early as Friday.
__________________________________
Monday, April 5...
My plastic sheeting came in but not the posts yet. My order confirmation email estimates their arrival no sooner than April 9 which is this Friday.
I finally got the rest of the veggies and most of the herbs started, i'll have to make an official list for my records in an upcoming post.
Pretty much what is left are the flower seeds my oldest daughter picked out and some herb seeds that do best with a 24 hour pre-soak.
My dad has not had the chance to come and till the garden yet, he planned on trying it 2 weeks ago but we got rain, then this weekend we had family visiting.
Hopefully i can get a till this Saturday, carve out the rows, lay down the plastic sheeting and maybe even pan on using the hoops. My biggest problem with using the hoops the first two tries was getting to the weeds. Removing the Remay by myself, weeding then putting the Remay back on was a tedious process. With black plastic blocking the weeds, this problem should be solved. I'm expecting a cool spring so the green house effect of the hoops may come in handy this year...and where i'm so late on seed starting!
As i mentioned earlier, i trimmed the grapes and i gave pretty much everything a hair cut. I really trimmed the elderberries, they were getting way out of hand. I bought some tall, narrow trellises at work and tied up the Gojiberries. I trimmed a thick branch off one of the Carmine Jewel cherries and am attempting to root it indoors as a spare.
I'll have to get some good pics to post on my next entry. Ta-ta for now.